Clooper
Clooper's Top 5 Serviced Apartments in Lekki Lagos This Week
---
Posted on November 29, 2022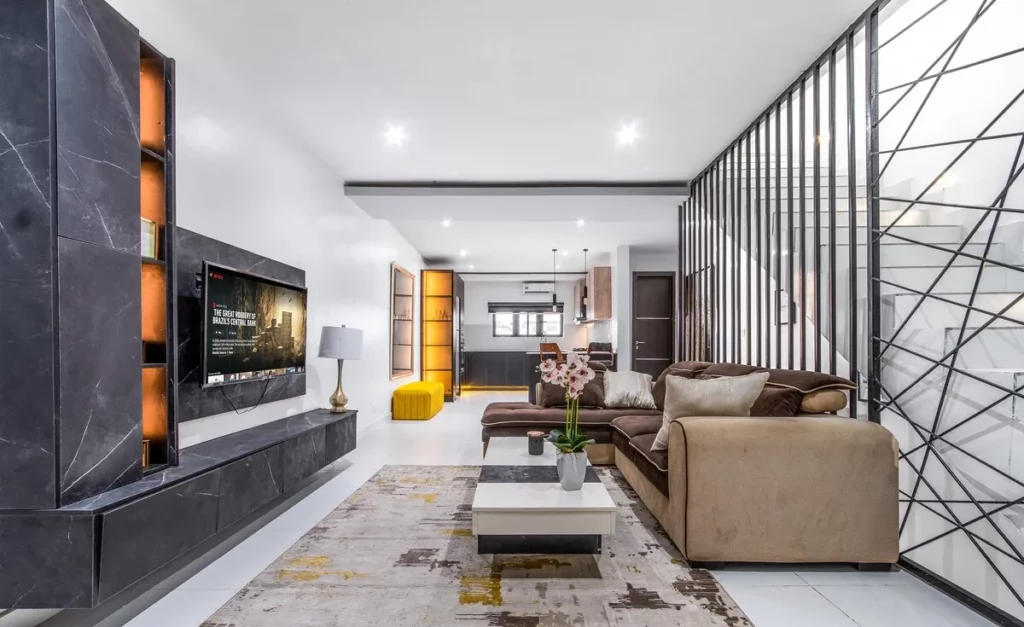 Serviced Apartments in Lekki Lagos? We've got you.
If you are especially looking for a 2-bedroom or 1-bedroom serviced apartment in Lagos, Clooper is home to some of the best professionally managed serviced apartments in the area, and we've curated a few options for your next stay in Lekki Lagos.
That means if you're a newbie at finding the best serviced apartment, you should read this first before you continue.
Serviced apartments are having a moment like no other in Lagos and Abuja, and we are here for it. With amenities to make your stay as comfortable as possible, they are nearly 20% less expensive than a hotel stay. Keep in mind that serviced apartments provide more space as well as a variety of homelike amenities!
Serviced apartments are available in a wide range of shapes, sizes, and specifications. The freedom, flexibility, and space to enjoy your trip your way are, in our opinion, the most important benefits for guests who choose this type of accommodation.
Depending on the size and location, housekeeping and room service may be available. There may also be on-site gyms, swimming pools, restaurants, and meeting rooms to make you feel at home.
Located in the heart of Lekki, The Hacienda99 is the perfect place for your next getaway if you are looking to escape the stress of Lagos or coming to Lagos for a quiet holiday with your partner, friend, or family.
This premium contemporary apartment is situated in a gated community in high-brow Lekki. A stone's throw away from supermarts and laundromats, you have the option of taking a casual drive around to explore everything nearby.
A two-door dedicated car garage leads directly into the house's entrance, ensuring your privacy and convenience.
The stairs leading to the living room are accented with coloured lights to guide you at night and inspirational words to welcome you and instantly lift your mood.
The open kitchen layout was designed with luxury in mind. This room has modern appliances and furnishings. There are also carefully chosen artworks to make the space even more appealing to those who enjoy the arts.
The bedrooms are colourful and bright, and each one tells a different story. It has a 42-inch television, a closet, and carefully curated pictures for a peaceful night's sleep.
To make you feel at home, it has amenities such as a fully equipped kitchen with a freezer. Free washer and dryer, luxurious bed linens, and extra pillows and blankets. Plus, a room-darkening shade perfect for a good nap.
It comes with a 55″ HDTV with Netflix, standard cable, a PS4 game console, all-around air conditioning, a smoke alarm, and a fire extinguisher.
With a dedicated workspace and free WiFi as standard, you can work if you want. There's free parking on the premises, as well as a first-aid kit and other amenities.
Get a-booking The Hacienda here.
This exquisitely designed apartment is ideal for private stays, group visits, business meetings, family vacations, and private events.
With The Agnes, it's love at first sight with her modern architecture and soothing classic accents.
The modern kitchen is well-equipped with high-quality amenities. The automated bedroom and private cinema in the apartment are at the top of our list. To ensure security, the security doors require an access code.
We love the plush accent chairs, lush curtains, and intricate details throughout the apartment.
Not to forget the chic lounge area, a walk-in bathroom, and Netflix and cable TV.
Book The Agnes here.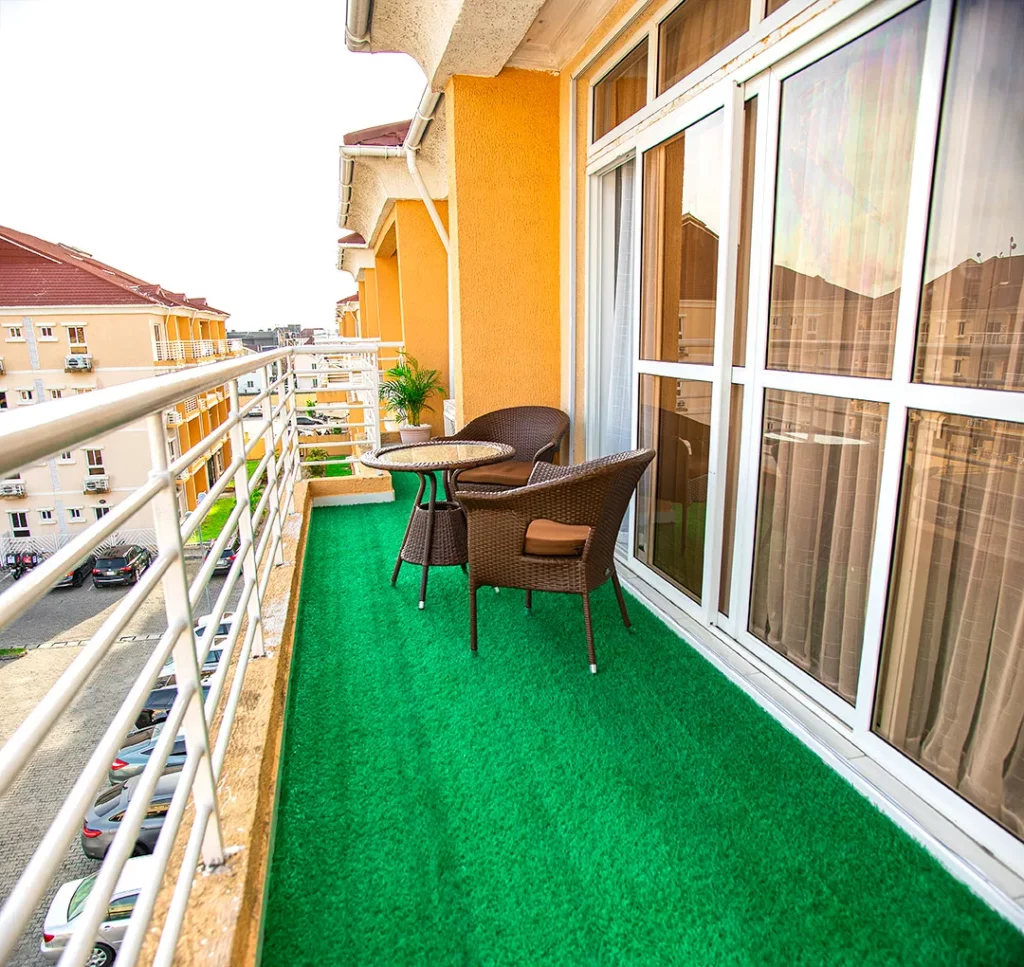 This penthouse suite is breathtaking. This impeccably finished and style apartment will make a home away from home with its tastefully curated amenities and home essentials.
This two-bedroom short let works for leisure, work, travel, and more with a variety of facilities that ensure you have a fun and memorable experience whenever you visit.
The spacious apartment is ideal for a private stay, a fun family getaway, and private events such as birthday dinners, engagement parties, private movie screenings, and so much more.
Think of an automated bedroom, a contemporary kitchen, or a private cinema (love!). There is also a stylish lounge area and a walk-in bathroom. In addition, Netflix and Premium Cable TV are available. The view from the balcony is also not bad.
Book the Izu here.
The colours, finish and accents in this apartment are just stunning.
This short-term apartment combines glam and functionality to provide an excellent vacation experience for single guests, families on vacation, or even business travellers.
The Clarita offers luxury with the privacy and serenity you require, leaving you refreshed and relaxed at the end of your stay.
The Clarita has an automated bedroom, a modern kitchen, and a private cinema (lovee!). A stylish lounge area and a walk-in bathroom are also included. Netflix and Premium Cable TV are also available. The colours in the dining area are just perfect!
Book The Clarita here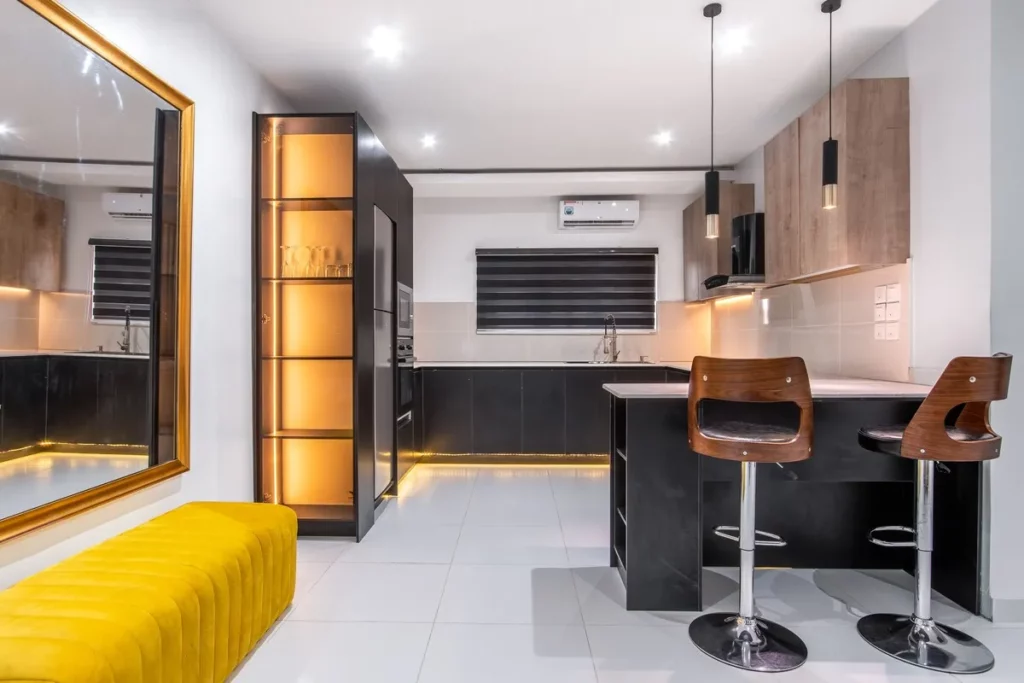 This lovely apartment is in a peaceful and gated community in Lekki. We can say it's elegantly designed with great care for detail.
This one-bedroom apartment has round-the-clock security, a play station, a bar, a two-door car garage, a washer and dryer, and an open kitchen floor with luxury appliances.
With 24-hour power, running water, fast fibre-optic internet, Netflix, and cable. Book it here.
Not quite what you were looking for? Explore Clooper here.