Business Travel
Level Up Your Business Travel: Introducing Complimentary Airport Lounge Access
---
Posted on July 26, 2023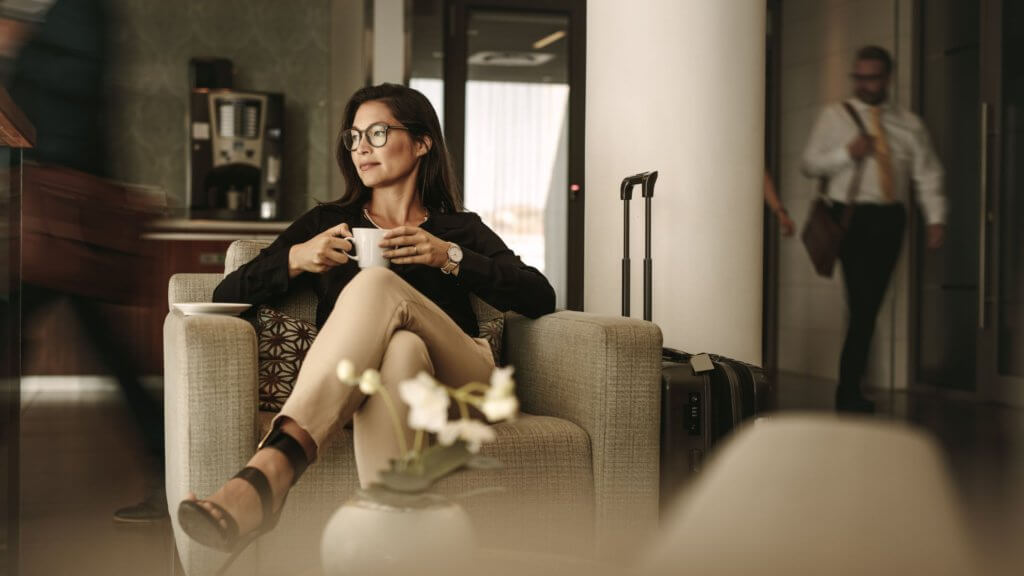 Attention all frequent flyers and business globetrotters! We are thrilled to unveil an exciting new perk that will elevate your travel experience to soaring heights. Starting this week, with every serviced apartment or hotel booking over £3000, you'll receive complimentary airport lounge access, making your business travel more comfortable, productive, and enjoyable than ever before! Plus, you can choose from over 600 lounges at over 350 airports worldwide.
What's the Buzz about Airport Lounge Access?
Airport lounges are the hidden gems of air travel, offering a world of convenience and relaxation amidst the usual hustle and bustle of airports. If you haven't experienced the delight of a lounge, here's what you can expect.
1. A Haven of Tranquility for Work and Rest
Escape from those noisy gate areas and seek refuge in the serene ambiance of the lounge. Whether you need to wrap up some last-minute work tasks, prepare for a crucial business presentation, or simply unwind before your flight, the lounge provides a peaceful environment tailored to your needs.
2. Delectable Delights to Satisfy Your Craving
Craving a delicious snack or a refreshing drink to recharge before your flight? Lounge access comes with a delectable spread of complimentary treats, ranging from sumptuous finger food to gourmet meals. And yes, those premium beverages are on the house too!
3. Seamless Connectivity with High-Speed Wi-Fi
Stay connected with colleagues, clients, and loved ones using the airport lounge's high-speed internet. Seamlessly video call your business partners or catch up on the latest industry news before you jet off to your next destination.
4. Comfortable Seating and Extra Perks
Wave goodbye to those rigid airport benches! Lounge seating offers the utmost comfort, so you can relax in style. Many airport lounges also offer additional amenities like charging stations, newspapers, magazines, and even showers to freshen up before or after your flight.
5. Enjoy Even More Perks With Exclusive Airport Lounge Access
You can even get relaxing spa treatments at some airport lounges. At the more exclusive lounges, you can sleep in en-suite bedrooms so you can arrive at your destination feeling rejuvenated and ready to conquer your business goals. Plus, you can enjoy services such as games rooms, separate children's play areas, a mini cinema or even a gym!
6. Networking Opportunities
The airport lounge is a melting pot of professionals from various industries and backgrounds. Who knows whom you might meet while sipping a latte? Make valuable connections and expand your network during your downtime.
How Can You Unlock This Travel Perk?
Gaining access to these exclusive airport lounges is easier than ever. Simply book your next business trip with us. With Clooper, you can choose from trusted serviced apartments and hotels in over 25000 locations worldwide.
If your booking is over £3000, you'll automatically receive a complimentary access pass to an airport lounge during your trip*. No need to jump through hoops or subscribe to any fancy loyalty programs. This is our way of saying "thank you" for choosing us to handle your business travel needs!
Spread the Word and Soar Higher!
Share this fantastic news with your fellow business travellers and let them in on this incredible perk. Upgrade your business travel game, and experience the epitome of comfort, productivity, and luxury with our complimentary airport lounge access.
The world of business travel is evolving. This is why we are committed to providing you with the best travel experiences possible. Plus, you get help from a team of experts whenever you need it. Sign up for exclusive member-only rates and special deals here.
Book your high-quality serviced apartment or hotel for your next business trip today and embark on a journey of unparalleled ease and satisfaction. The world of hassle-free, delightful business travel awaits!
Read more about self-care when travelling here. Bon voyage and safe travels!
*The lounge access is non-transferable and up to a maximum cost of £100 per visit. It is subject to the Lounge Partner's T&Cs. Clooper retains the right to withdraw, subsititute or amend the offer at any time. Where a dispute arises, the manager at Clooper makes the final decision.