Clooper
Clooper Pitches at the Exclusive Culture Shifting Summit London 2023
---
Posted on April 17, 2023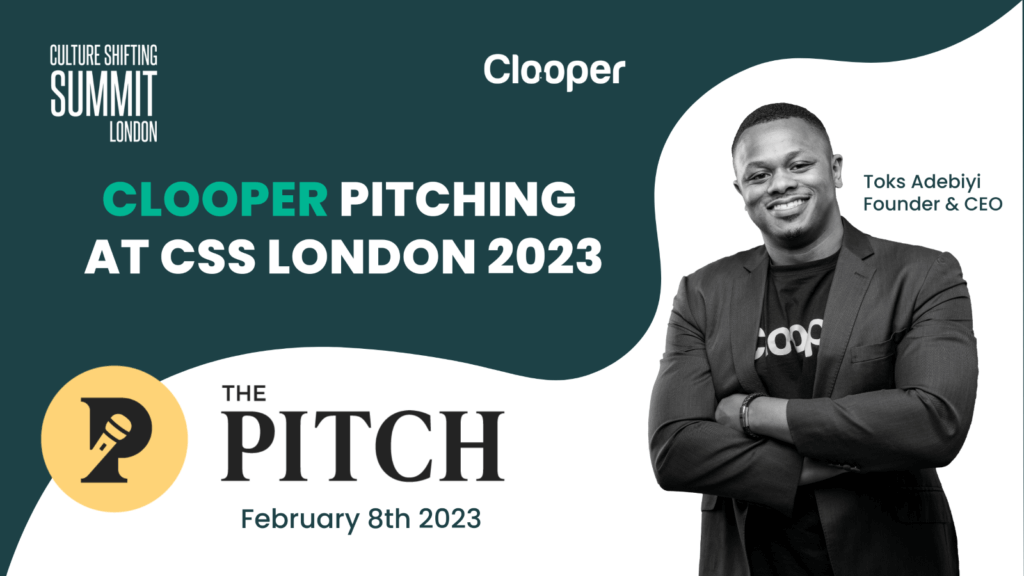 Clooper one of 10 startups invited to The Pitch event at the Culture Shifting Summit on February 8th in London.  
Culture Shift Labs, a diversity and innovation consultancy, puts on Culture Shifting Summits around the world to gather and inspire the leading founders of colour.
The invite-only Culture Shifting Summit London unites these incredible leaders with the explicit goal of narrowing the inequality gap in the startup sector, connecting them with like-minded individuals and potential investors.

These Culture Shifting Summits are different from your typical entrepreneurial summit. For instance, As Culture Shift Labs Puts it:
Each event has a different format; Silicon Valley is the largest gathering of Black leaders in tech, innovation and social impact to narrow the inequality gap in entrepreneurship, on corporate boards, in venture capital, in tech and in the c-suite. New York is the largest gathering of Black and Latino Venture Capitalists to narrow the inequality gap in this sector. In contrast, Miami and London are hybrids of the two.

Culture Shifting Weekends
Toks Adebiyi, Clooper Founder and CEO, gave Clooper's pitch at this special event.  
"Attending The Culture Shifting Summit was a humbling experience. I was in the presence of so many wonderful entrepreneurs, investors and VCs," said Toks.
The Pitch Event
The Pitch is a live, invite-only event where investors can hear directly from Founders. Applying for the Pitch can be very challenging, as the criteria are very strict. Plus, applicants must be purpose-driven entrepreneurs.
"I thoroughly enjoyed participating in the Pitch. Becoming part of a network of high-powered diverse people of colour was an experience of a lifetime. It was such a privilege that I want to stay connected with the group for the rest of my life. It's also why I want to give back to the network at some point," said Toks.
If you don't know about Clooper…
We're a UK-based startup providing corporate accommodation to business travellers the world over. Moreover, Clooper emphasizes quality and sustainability with its property listings. We've helped notable clients such as the US Embassy, Grant Thornton, Latham & Watkins, PwC, and many more. 
It is our passion for incredible service and tenacity for growth that led to our incredible moment at CSS London.
Follow Clooper on our unstoppable journey to improve the quality, accessibility and sustainability of the housing sector – starting with accommodation that business travellers will love.