The Clooper Guide To Notting Hill
Posted on September 22, 2021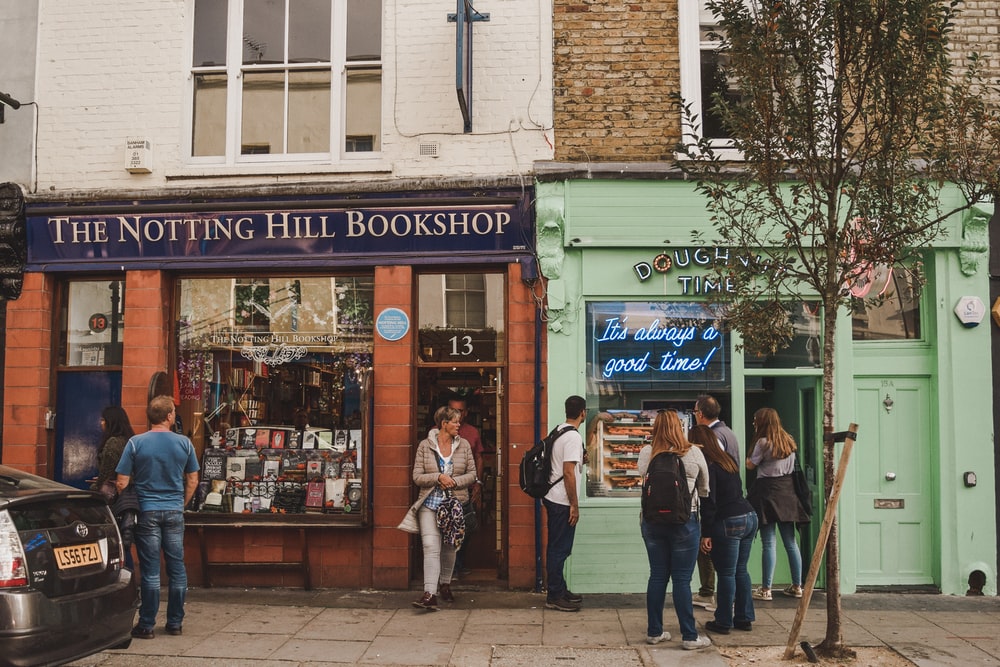 ---
When we think of Notting Hill we may think only of the movie, but there's an entire gorgeous district behind that film just waiting to be explored.
Notting Hill has been dubbed one of the most 'instagrammable' areas of London, for good reason too! This affluent, trendy area is rife with beauty. Not only this, the notorious Portobello Road could be just outside your doorstep.
PORTOBELLO ROAD
This straight stretch of street is famous for being one of the largest vintage, bric-a-brac and antiques markets. Boasting over 1,000 retailers, a simple stroll down Portobello Road is a day out in itself. You can find street food vendors, vintage stores, antique stands and much more. Also, the streets that branch off of Portobello are also full of their fair share of quirky and colourful storefronts. 
The northern part of the market is chock a block full of food vendors from various cultures and families. You could have yourself a full three-course meal while you traverse the rest of the market! This truly is an unmissable sight in London, one that could be mere minutes away from your home in Notting Hill. Your ease of access will also mean you'll beat the crowds on most days, as you could even browse as you walk down to your morning coffee. 
There are also plenty of amenities available on Portobello and the roads surrounding it. Basics like a chemist, various supermarkets such as Tesco and Sainsburys, Starbucks and numerous coffee shops and the Notting Hill Bookshop. (Some of you avid film fans may remember that this particular book shop is the same one that Hugh Grant owns in the movie Notting Hill!)
AVAILABLE PROPERTY
Notting Hill may seem intimidating to some. This is because, at a glance, it seems to be full of only expensive homes. However, a lot of the Victorian townhouses are flat conversions. As well as this, spacious flatshares are available in the area starting at only 300 pounds per month.
Notting Hill is picturesque due to its many townhouses, uniformly in rows through its streets. They often open out onto private gardens. One such private garden is Ladbroke Square Gardens, which also happens to be the largest private garden square in London! These properties are desired by many, in fact, it's often named one of the most preferable places to live in London.
NOTTING HILL CARNIVAL
Notting Hill is famous for its Carnival, as well as its star-studded streets. Carnival is a Caribbean street festival that takes place every year and has been done since 1966. It's all about celebrating Caribbean culture. This is very fitting as Notting Hill is such a diverse area, with a lively community full of individuals from various cultural backgrounds. 
A woman named Rhaune Laslett organized the very first festival. Rhaune inhabited Notting Hill with her family and wanted to draw attention to and celebrate the diversity in her area. Ultimately, she decided to put on a festival. Only 50 people attended the first-ever Carnival. This past year? 2 million people were expected to attend! Unfortunately, the 2021 Carnival has been cancelled due to Covid concerns, though you can hopefully expect to see it popping up next year. 
Those that organize Carnival now do so with great pride and adoration. Not only this, they're conscious about residents, and do their best to work around and with them in order to minimise upset in peoples daily lives. You can find out more about Carnival here and the people that organize it here. 
TRANSPORT LINKS
There are multiple stations in and around Notting Hill that lead to popular London destinations. This includes many popular commuter routes. This incredibly well-connected district is perfect for young and experienced professionals alike, with its wide appeal of activities and amenities. The most central station is Notting Hill Gate, leading to the Circle, District or Central lines. Westbourne Park and Ladbroke Grove are also nearby, both on the Hammersmith & City Line. 
There are even exciting tourist attractions available within walking distance. You could end up in Queensway in around 8 minutes! Kensington Gardens is only a 10-minute walk away and Kensington Palace is a mere five minutes after that. This could also lead you to Kensington High Street if you haven't had your fill in the Portobello market! 
Looking for something a little more family-oriented? Check out our other area guides here.