The Clooper Guide To Edinburgh New Town
Posted on January 24, 2022
---
Edinburgh is full of spectacular neighbourhoods. One of the most prestigious is Old Town, but what about Edinburgh New Town?
Many skip over the New Town in favour of the Old Town for its historic value. So what value does Edinburgh New Town have? Simply put, a charming community, a fantastic location, and a luxuriously leafy locale. Intrigued? Let's take a closer look.
CENTRAL LOCATION
Living in Edinburgh New Town, you're literally at the central hub. Bus links can take you anywhere from Fife to Gorebridge. Not that you'd want to leave with these views! You can see Edinburgh Castle from almost every nook and cranny in the New Town and Old Town.
The properties in the New Town are usually beautiful, Georgian homes. Full of high ceilings, natural light and large rooms. If this isn't enough of a selling point, they usually have their own private gardens, also. Edinburgh as a whole is very leafy. Even the deeper you get into the centre! Through the winding cobbled streets, you can always glimpse green.
Living in New Town you have immediate access to many of its shopping streets. Primarily Princes Street. This street is not only lined with shops but historical venues as well! There is so much to see, in fact, that there are even open-top bus tours that exist to help you explore them. Around the main shopping streets alone you can find:
The National Museum of Scotland
The Scottish National Gallery
Edinburghs Hard Rock Cafe
The Royal Scottish Academy
The Edinburgh Dungeon
And much more.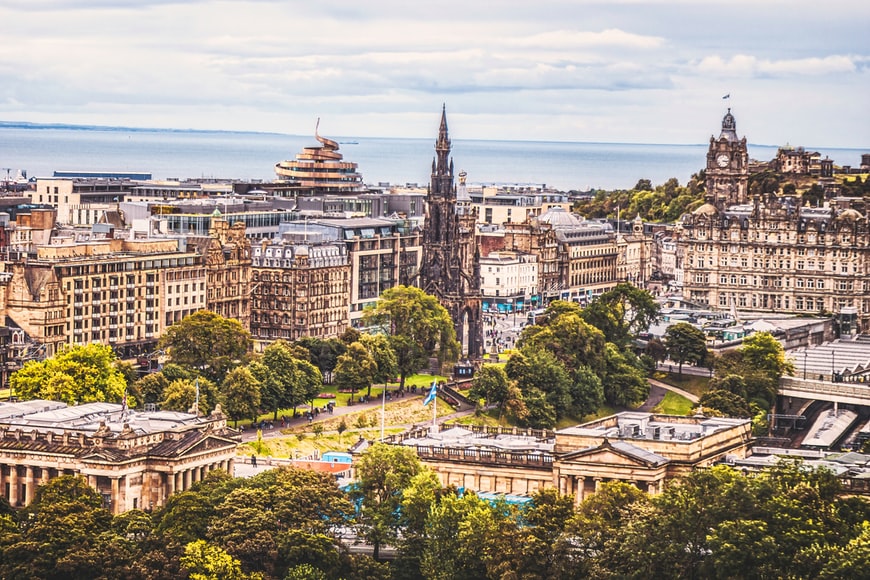 VERDANT ATMOSPHERE
We mentioned that Edinburgh in general is leafy, and we certainly weren't lying. There are green pastures, trees and beautiful shrubbery abound. One of the most astounding views is from Arthurs Seat.
Arthurs Seat is a tall hill formed from the remains of a volcano. Not to worry though, it's long since extinct, therefore, no danger remains. There is no charge to climb Arthurs Seat, and you won't regret it. After only a relatively short and tough (but rewarding!) hike, you can look over at the entirety of Edinburgh from a fantastic vantage point.
In terms of more general parks, there's no shortage of those, either. Princes Street Gardens are full of memorial statues, fountain additions and beautiful walking paths. Malleny Gardens is similar, while its ample space makes it a favourite with dog walkers also.
A BUSTLING COMMUNITY
Edinburgh New Town has its share of history, but most can be found in Old Town. New Town is more up and coming, more modern, with a fresher feel. Its Georgian architecture lends it a rustic enough feel all the same.
Edinburgh, generally, is also known for its community and culture, namely in their yearly festival. AKA The International Festival and the Fringe Fest. This is a three-week-long celebration of culture and the arts. It also boasts 'the finest performers and ensembles from the worlds of dance, opera, music, and theatre.' Living in Edinburgh, you could have a front-row ticket to this event every year!
New Town also has its fair share of modern stores. You can find your local Tesco or Asda easily enough. There are also gyms, leisure centres, libraries and chain restaurants like Miller & Carter. Mostly, New Town is full of independently owned chains, however. Restaurants, cocktail bars, grocery shops and even distilleries!
Looking for somewhere a little more family-oriented? Bexleyheath could be the place for you.