Business Travel
How to Choose the Best Hotel for Your Business Travel
---
Posted on September 20, 2023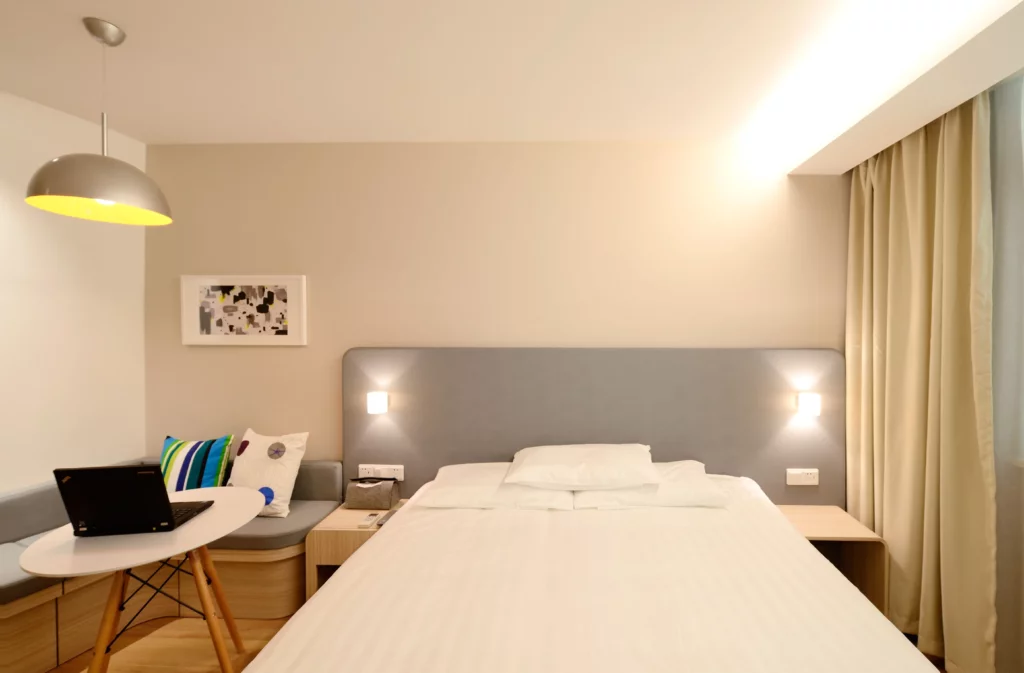 Business travel can be both exciting and demanding. While it offers opportunities for professional growth and networking, it also comes with its own set of challenges. One crucial aspect of a successful business trip is choosing the right hotel for your business trip.
In this comprehensive guide, we will delve into the intricacies of choosing the ideal accommodation for your business travel needs. From location and amenities to budget considerations, we've got you covered.
7 Tips For Choosing a Hotel For Business Travel
1. Location Matters
When it comes to business travel, location should be a top priority. Opt for a hotel or a serviced apartment that is conveniently located near your meetings, conferences, or the central business district.
It ensures that you can easily reach your appointments without being stuck in traffic or spending excessive time commuting. This convenience can enhance your productivity and reduce stress.
Proximity to local restaurants and attractions can also make your downtime more enjoyable. This will not only save you valuable time but also reduce transportation costs.
The safety of the hotel's location is paramount. Research the neighbourhood to ensure it is safe, well-lit, and free from security concerns. This is especially important if you plan to return to the hotel late at night or if you have valuable equipment with you.
2. Reviews and Ratings
Reviews and ratings provide you with insights into the real experiences of guests who have stayed at the hotel. They offer firsthand accounts of what to expect during your stay, helping you make an informed decision.
This allows you to learn about the positives, such as exceptional service, comfortable rooms, and convenient amenities, as well as any potential drawbacks like noisy neighbours or maintenance issues.
A high rating with a substantial number of positive reviews indicates that the hotel has a track record of delivering a good experience to its guests consistently.
On the other hand, if you find a hotel with inconsistent ratings or a significant number of negative reviews, it may be a red flag, suggesting that your experience might be less than satisfactory.
3. Loyalty Programs
Hotel loyalty programs typically reward you with points for each stay or dollar spent. These points can add up quickly and be redeemed for free nights, room upgrades, or other perks.
For business travellers who frequently stay in hotels, loyalty programs can lead to substantial savings and enhanced experiences. Many hotel loyalty programs offer elite status tiers based on your accumulated stays or spending.
Achieving elite status can come with privileges like room upgrades, late checkout, and access to exclusive lounges. These benefits can make your business trips more comfortable and enjoyable.
Lastly, several hotel chains have a global presence, allowing you to earn and redeem points at properties worldwide. This is especially advantageous if your business travel takes you to various destinations.
4. Amenities that Matter
Consider the amenities offered by the hotel. For a business trip, you'll likely need reliable Wi-Fi, a comfortable workspace, and access to printing and scanning facilities.
If you plan to unwind after a busy day, amenities like a fitness centre can be a bonus. Maintaining your fitness routine while on the road is essential for overall well-being.
Also, late-night work sessions or early-morning meetings may leave you with limited dining options. A hotel that offers 24/7 room service ensures you can get a meal at any time.
For longer business trips, access to laundry and dry cleaning services can be a lifesaver. It allows you to maintain a professional appearance without the hassle of finding external services.
In conclusion, the right amenities can greatly enhance your business travel experience. Prioritize those that align with your specific needs and preferences, as they can contribute to your comfort, productivity, and overall satisfaction during your stay.
5. Budget-Friendly or Luxury?
Choosing between budget-friendly and luxury accommodations ultimately comes down to your priorities and budget for the trip. However, it's important to note that there are mid-range hotels that offer a balance between cost and comfort, providing a comfortable stay without breaking the bank.
For small and medium-sized enterprises (SMEs) looking to maximize their serviced accommodation budget, we've outlined practical strategies to maximise your budget and make the most of your resources.
Consider the following when making your decision:
Trip Duration: For shorter business trips, budget-friendly options may suffice. For longer stays, you might want to balance cost-efficiency with comfort.
Company Policies: Some companies have specific policies regarding the choice of accommodation. Ensure your selection aligns with your employer's guidelines.
Client Impressions: If hosting clients or business partners, consider the impression you want to create. Luxury accommodations can enhance your professional image.
Considering all this, the choice depends on your budget, trip objectives, and personal preferences. Carefully assess your needs and priorities to find the right balance.
6. Flexible Cancellation Policy
Business travel plans can be subject to changes, often on short notice. A hotel with a flexible cancellation policy allows you to modify or cancel your reservation without incurring significant financial penalties.
Some hotels offer different rates with varying cancellation policies. While non-refundable rates may be cheaper upfront, they often come with strict cancellation terms. It's essential to weigh the potential savings against the risk of cancellation.
In situations where your business travel is prone to frequent changes or uncertainties, it may be worthwhile to invest in travel insurance. Travel insurance can provide coverage for trip cancellations due to specific reasons outlined in the policy.
Ultimately, a well-balanced cancellation policy can provide you with the flexibility and peace of mind you need for successful business travel. Also, hotels may have stricter cancellation policies during peak seasons or special events when demand is high. Be extra cautious when booking during these times.
7. Safety and Security
Your safety is paramount, especially when you're in an unfamiliar city. Research the safety record of the hotel and its surrounding area. Check if the hotel has security measures in place, such as surveillance cameras and secure access to rooms.
A reputable hotel should have secure access control in place. This includes key card or electronic access to rooms and well-monitored entrances to the property.
While hotels play a crucial role in your safety, it's essential to take personal precautions as well. Keep your room locked, use the peephole before opening the door, and avoid displaying valuable items in your room.
Ultimately, choose a hotel with a strong commitment to guest safety, well-maintained security features, and a reputation for providing a secure environment. Your peace of mind is invaluable during your business trip, and these precautions can help ensure a safe and worry-free stay.
Frequently Asked Questions (FAQs)
Should I choose a luxury hotel or a budget-friendly option for my business travel?
The choice between luxury and budget-friendly hotels depends on your budget and preferences. Balance comfort and cost-effectiveness according to your company's travel policy and your personal requirements.
What amenities should I prioritize for a business travel hotel?
Prioritize amenities such as reliable Wi-Fi, a suitable workspace, and access to printing and scanning facilities. Additionally, look for fitness centres, spas, and restaurants if you plan to relax after work.
How can I check the reputation of a hotel before booking?
Read hotel online reviews on Clooper, TripAdvisor, Booking.com, and Google Reviews. Look for consistent positive feedback regarding cleanliness, customer service, and amenities.
How can I ensure the safety and security of the hotel I choose?
Research the hotel's safety record and its surroundings. Check for security measures like surveillance cameras and secure room access. Ensure the hotel complies with safety standards and regulations.
Conclusion
Selecting the right hotel for your business trips doesn't have to be a daunting task. These seven tips streamline the process, ensuring your travels are hassle-free and convenient. Prioritize factors such as location, budget, amenities, and safety to make an informed choice. By considering these essential aspects, you can ensure that your business trip is not only successful but also enjoyable.
If you're seeking top-notch suites for your business, don't hesitate to contact us for more information.